Vancouver's The Painted Ship sailed into the mid 60s with their own unique sound. Often described as Garage, the bands sound contained elements from the Psychedelic genres of the 60s, but also had an undeniable Punk chemistry which was supplied by their buckskin clad frontman, lead vocalist and songwriter Bill "The Captain" Hay. While the band did go through a few line up changes, Bill (or William) Hay stayed the only consistent member of the band.
The Painted Ship formed in 1965 and after playing around town for a bit, they signed a record deal with London/Mercury Records in 1966. The band produced two singles in 1966, the first being the
Little White Lies/Frustration
single. This single was recorded with the first line up of the group which featured Rob Rowden on guitar, Barry Rowden on drums, Ken Wain on Keyboards and of course William Hay on vocals. When recording the single, the song "Frustration" was initially intended to be the A-side, but this gritty organ driven track was flipped to the B-side after an odd situation where the band/management decided to change it without Hay's knowledge. Ironically the title "Frustration" proved to be more accurate than expected when the single was released it became a regional hit in Vancouver going to #7 in the area on the singles charts. But it was not the A-Side "Little White Lies" that got airplay it was the B-side "Frustration" which was the originally intended A-side. The single also received some US airplay.
The bands second single, also released in 1966 was the
And She Said Yes/Audience Reflections
single. This single displayed the dynamicism of the band and emphasized Bill Hay's intention of making music that was to be very different from the commercial R&B top forty that was overpopulating radio stations nation wide at the time. "And She Said Yes" is perhaps the bands rawest moment, the song starts with its marching like drum roll as the distorted guitar riff and Mr. Hay's raw vocals which attack the listener. The song also features the bands intensifying organ parts that we first heard on the
Little White Lies
single. The vocals on this pre-Stooges romp are not unlike an early Iggy Pop. The B-side to this song is the "Audience Reflections" an organ, bass, drum and vocal driven track. This song features no guitar, but hasplenty of psychedelic connotations and elements.
What happened next adds to the bands legend and mystery. Through a series of events a full length album was recorded and intended to get released through Polydor records, but the album was never seen or heard from again after being recorded. The band were told that the master tapes were lost in the mail while being sent. Since then people still wonder and probe this mystery as The Painted Ship has gone on to become a beloved band in Vancouver's music history being placed alongside bands such as The Collectors and The Haunted. They hold a cult like status still being discovered to this day, and while it has been many years since The Painted Ship has set sail, the paint from The Painted Ship has still not peeled off. It is still intact as they are just as treasured today in Vancouver and other parts amongst Garage/Punk enthusiasts and fans as they were in 1966.
The following interview was done between myself (Dave Konstantino of Revolution Rock) and William Hay of The Painted Ship. We talk of the bands formation, their two singles, lost album and more:

RR: When did Painted Ship form and how did everyone meet?
WH: I was introduced to Rob (the first guitar player) by a mutual friend while we were both attending The University of British Columbia. The year is 1965. Over the weeks and months we talk when we bump into one another in the library. One day I tell him that I'm going to start a band. A very different kind of a band. I'd been writing a lot of poetry and I thought that it might be interesting to add some music (I'd played in a youth orchestra for 6 years) Rob played guitar in a club band that covered commercial R&B and his brother played the drums. We recruit, Ken on keyboards and the first incarnation of the band takes shape.
RR: What were some of the influences that brought the band together and how did you decide on your sound and band name?
WH: Sadly, the musical influences that each individual brought with them would soon tear this first line-up apart. These were very good musicians but they did not have any real liking for the wild and wonderful tunes that I heard in my head. What happened with the first single is a perfect example. When I brought the ideas for "Frustration" and "Little White Lies" to the band I stated that "Frustration" would be the a-side. Everyone agreed. But the other band members did not like this song. One of the guys went out of his way to tell everyone how much he hated it.
Without telling me, they tell our manager to get London to place "Frustration" on the b-side. I knew nothing about this until I was driving in my car and heard "Little White Lies" played as the a-side. Betrayal. I'm pissed. It was just not the right mix of people.
The name "The Painted Ship" must have been taken from the poem "The Rime of the Ancient Mariner". Not consciously, but as I've stated I was reading and writing a lot of poetry. But, this is not our first name. The first name that I gave the band was "The Wee Beasties". We never performed under this name, we'd already become The Painted Ship by the time we recorded and started to perform.
The sound? I take full responsibility for it. These are the sounds that I heard in my head. This is what I wanted to write and record. Guilty!
RR: Painted Ship signed to the London/Mercury label how did that come about?
WH: London had an office in Vancouver so we decided to give them a try. The Canadian division of the company was good to us but the U.S. and European branches refused to release our second single. They said it was "too primitive and too weird".
RR: Painted Ship released two singles Little White Lies b/w Frustration and And She Said Yes b/w Audience Reflections. What was the inspiration behind these songs and were they both recorded at the same session or separately?
WH: At this point it's important to note that there were many different line-ups of musicians over the years. I was the only constant.
The first single was recorded by the first line- up.
"Frustration".
I wanted to explore the essential but "frustrating" tension between the push of enculturation and the pull of individuation. All of us must adopt at least a minimum of the beliefs of our culture in order to function. Yet, at the same time, it's just as important that we discover and nourish our individuality. This is the theme I was exploring enculturation vs. individuation.
"Little White Lies".
This is my realization of how relationships really are much different from the ridiculous, inane, sappy love songs that populate the top 40 charts.
The second single was recorded with a new line-up of musicians. Only, Ken, the brilliant keyboard player, remains from the first band.
"And She Said Yes".
Now, this is my idea of a love song. That's right a real, damn, love song. Pure testosterone joy.
"Audience Reflections".
I've always been involved with esoteric studies. This is our attempt to capture a particular meditative experience.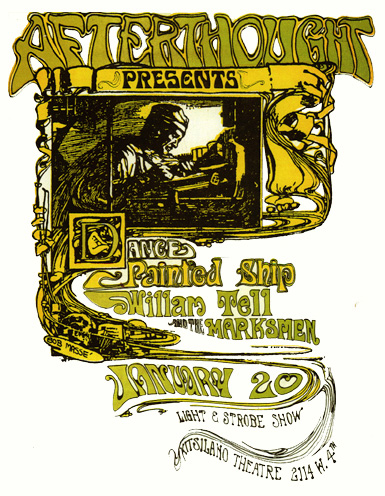 RR: What do you remember of how and when these songs were recorded? Who did you work with for these songs (for example producer, engineers etc.)?
WH: We were very lucky, Robin Spurgin owned and operated the Vancouver Recording Studio. He told me that he didn't really understand the type of music that we were bringing him but his job was to work the boards and get the best possible sound. He was a good guy and very good at what he did. He never tried to impose his values on us or try to make us more commercial. Everything was recorded on simple 4-track equipment.
RR: Were there any other recordings made with Painted Ship during these sessions that you can recall? I read online that the band did make some recordings for an LP and that those recordings were lost. Is that true and if so what happened to those recordings?
WH: It is true. We recorded an album for the London, England office of Polydor. I guess I'd better start at the beginning.
The Who and Herman's Hermits came to see one of our shows after they'd done a concert together. We hung out and talked afterwards and John Alec Entwistle (R.I.P.), the bass player for The Who, gave me the name of an English producer. John told me that this producer worked for Polydor and he thought that he would like the kind of stuff that we were doing. Over the next few months the producer and I talked back and forth over the phone. At his request I sent him some rough tapes that we'd made during a practice session. They were very rough but he liked what he heard and arranged for Polydor to pay for an albums worth of songs. This particular line-up of the band had amassed a lot of original material so it didn't take us long to finish the project.
Several weeks later I got a call from the producer. He had "good news and bad news". He really liked the songs and wanted to work with us but he'd been told that North American acts had to be handled out of a North American office.
He offered me a tempting proposition. If I'd come to London on my own he'd set me up with first class musicians and produce us for Polydor. It was flattering of course but I just couldn't desert the Vancouver boys in the band. I had to decline. The producer was disappointed but he said he understood and he'd send the master to Chicago.
And the mystery began. We were told that the master had been lost. No one knew exactly by who or how. But it was gone. And there were no copies.
RR: The bands sound has often been cited as having elements of what was to become known as Punk Rock. Many people when talking of the band often use the word Garage Punk to describe the sound. Do you feel that is an accurate description of your sound and how would you describe the music of Painted Ship?
WH: This is an interesting question. One I get asked from time to time. First, let me say that we never labeled ourselves. We just thought of our stuff as Painted Ship songs.
If I had to attach a label to our sound I'd say we were a PUNK band with a few weird psyche moments (who me?) I don't see us as garage. To me, the garage sound has a more traditional element of R&B running through it. Our stuff does not. I say we are pure punk. I think the garage label is attached to us because some people think that punk didn't exist when we played. They think that punk evolved some time later so we couldn't be a punk band. If you accept this idea than you'd have to put us in with the garage folks, I don't accept the idea. We were a punk band. Punk began long before some people think it did.
RR: It has been many years since Painted Ship has released new music, yet people are still listening to you guys. What do you think it is about Painted Ships music that has survived in the digital age and keeps people listening?
WH: Before I answer, on behalf of the many musicians who crewed the Painted Ship, I send huge hugs to everyone who supports our music. It is appreciated more than you could know.
I think some people see and appreciate the fact that we did it our way. We didn't try to be the Canadian Rolling Stones or the Canadian Beatles or copy anyone's sound. And we didn't buckle under the pressure to vomit out some idiotic commercial bullshit. Like us or hate us ; you have to admit that we were true to ourselves. I think this resonates with folks.
RR: Speaking of the digital age, what is your preferred format for listening to music (vinyl, CD, mp3s/digital)?
WH: I'm old school, I still prefer vinyl. Everything about it is better from the packaging to the warmer sound (and of course the crackles and pops). Having said this I have to admit that I did not replace my record player when it stopped working a couple of years ago
RR: What did you do after your days with Painted Ship? And what have you been up to recently?
WH: A couple of years after the lost album incident I received an unexpected call from Polydor. They informed me that their world convention was going to be held in Montreal and asked if I'd like to attend. They said that it would be an interesting experience because all of the top execs from around the world be there. I thought it over and decided to go. I did meet some good people and I was offered a job with the company. But, there is a problem. And it is not a small one. The record labels at this time were accepting little or no alternative music. I just didn't want to spend my life promoting or producing commercial crap. I had to decline the offer. I returned to Vancouver and pursued interests outside of music. But do not sit so comfortably gently reader. This does not mean that eardrums are safe. I have written more songs. And I have received kind offers from musicians who've said that they'd like to work with me.
Captain Will may set sail once again. Earplugs, people!!
Finally, a big hug to everyone who's supported us with their kind thoughts and attentive ears. Thank you.
This Week's Play List:
1. Queens of the Stone Age – This Lullaby
2. Psychic Ills – I Get By
3. Dog Day – Nothing To Du
4. Dee Dee Ramone – Negative Creep
5. Thighs – Russ
6. Idols – Reajean
7. Wayouts – Red Rover
8. Big Harp – You Can't Save' Em All
9. Neil Young – Don't Be Denied
10. Painted Ship – Little White Lies
11. Painted Ship – Frustration
12. Painted Ship – And She Said Yes
13. Painted Ship – Audience Reflections
14. The Standells – Why Did You Hurt Me?
15. The Future Primitives – Sea of Words
16. Ty Segall – Imaginary Person (Live in Brooklyn, NY 2013)
17. Zebra Hunt – Sun Drenched Island
18. The Real Kids – Rave On
19. Lou Reed – Nobody's Business
20. Ramones – It's Not My Place (In The 9 to 5 World)
21. The Saints –One Way Street
22. The Victims – T.V. Freak
23. The Hives – State Control
24. The Gruesomes - My Dad's A Ho-Dad (Live)
25. Young Rival – Night Song
To download this weeks program, visit CJAM's schedule page for
Revolution Rock
and download the file for March 12. Or subscribe to Revolution Rock as a
Podcast.