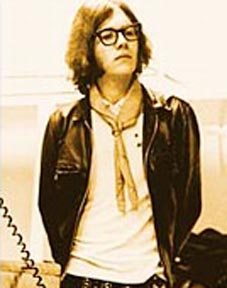 it is sad news to report that today on January 6th, 2009 Stooges guitarist Ron Asheton was found dead in his Ann Arbor home. At 60 years old, Ron was known for his inspiring guitar techniques that he developed with The Stooges. While The Stooges did not reach commercial success, they have since their incarnation grown in underground/cult status. The Stooges released three albums starting in 1969. Ron Asheton along with drummer and borther Scott Asheton, joined forces with Iggy Pop and Dave Alexander to form The Stooges in the late 60s. The Stooges took a long break after their 1973 album
Raw Power
, where Ron played bass.
Ron was also involved in various musical projects such as the short lived band he formed with Scott Asheton New Order, Destroy All Monsters, The New Race (which also contained members of the Australian band Radio Birdman), The Empty Set, and Dark Carnival. He also formed a one off side project known as The Wylde Rattz, which contained Mark Arm (Mudhoney), Thurston Moore (Sonic Youth), Mike Watt, and Steve Shelley. This group recorded a bunch of songs for the movie
Velvet Goldmine
and would be featured on its soundtrack. The Stooges reformed in 2003 for an Iggy Pop solo album known as
Skull Ring
. In 2007, The Stooges released their first full length album since 1973's
Raw Power
.
The Weirdness
was produced by Steve Albini. The Stooges toured heavily through out since their reformation. The Stooges last played live in Moscow on September, 24th, 2008.
More information on this can be found in the following links:
Ann Arbor News
Iggy Pop's Official Website
Billboard
Next weeks program will feature a block of songs featuring Ron Asheton.