To say that Ty Segall is a prolific writer is an understatement, in addition to what has been released previously by Segall he released three albums in 2012. He has been recording and making music since approximately 2008, where he has released music with The Epsilons, Party Fowl, Traditional Fools, with Mikal Cronin and has been involved with numerous other projects since then. Segall's sound mixes elements of 60s Garage Rock, Punk and adds a dash of Grunge at times. Taking a look back at the three releases that Segall has been involved with in 2012 we can see not only how this San Fransican has developed as a musician, but also as an artist.
Ty Segall & White Fence - Hair
In April 2012, Ty Segall released an album collaborating with White Fence entitled
Hair
. White Fence is actually Tim Presley and has like Ty been involved in other bands. As White Fence Presley normally records and plays all the instruments himself. The album
Hair
starts of with the song "Time", which is a Folk/Psychedelic piece that hints at the heaviness that will come in future releases for Segall. The intro which features a slow count down that is stopped by short heavy Garage Rock guitar stabs before the songs filters in. "Time" moves with an early Pink Floyd like rhythm mixed in with guitar parts that sound like they could be from George Harrison's
All Things Must Pass
album, but just as the lush melodies sink in the song changes directions (something that happens at various points on
Hair
). The last fifty seconds of the song sounds like something from Black Sabbath before fading out into the next track "I Am A Not Game". This is one of the highlights on this Psychedelic/eclectic release, "I Am A Not Game" attacks with its retro organ driven riffs and clean/scuzzy Garage Rock rhythms, while lyrically the song serves as an indication of what Ty and White Fence are doing on this album, not playing the traditional game. They mix up familiar Garage Rock with Psychedelia in different ways in less than half an hour.
"Easy Ryder" features lazy drums and guitar with an almost Ventures Surf-like sound, "Crybaby" is Rockabilly with a demented sense of fun, similar to Alex Chilton's
Like Flies On Sherbert
, "(I Can't Get) Around You" and "Tongues" reflect a sound found on Psychedelic-era Beatles and Syd Barrett-era Pink Floyd records, but is also drawing comparisons from Ty Segall's
Goodbye Bread
released in 2011. "Scissor People" is a straight ahead wild Garage Rock number mixed with a heavily distorted almost Grunge sound. Two minutes into the song we are juxtaposed with short clips of heavy jam sessions which have been seemingly spliced together like the last verse of "Yer Blues" on the
White Album
. The song ends with a bass and dual guitar attack rendezvous before slowly fizzling out. Overall, on
Hair
Ty Segall and White Fence let their hair down so to speak, creating a Beatles meets
Piper At The Gates of Dawn
-era Pink Floyd freak out, mixing those elements and everything in between.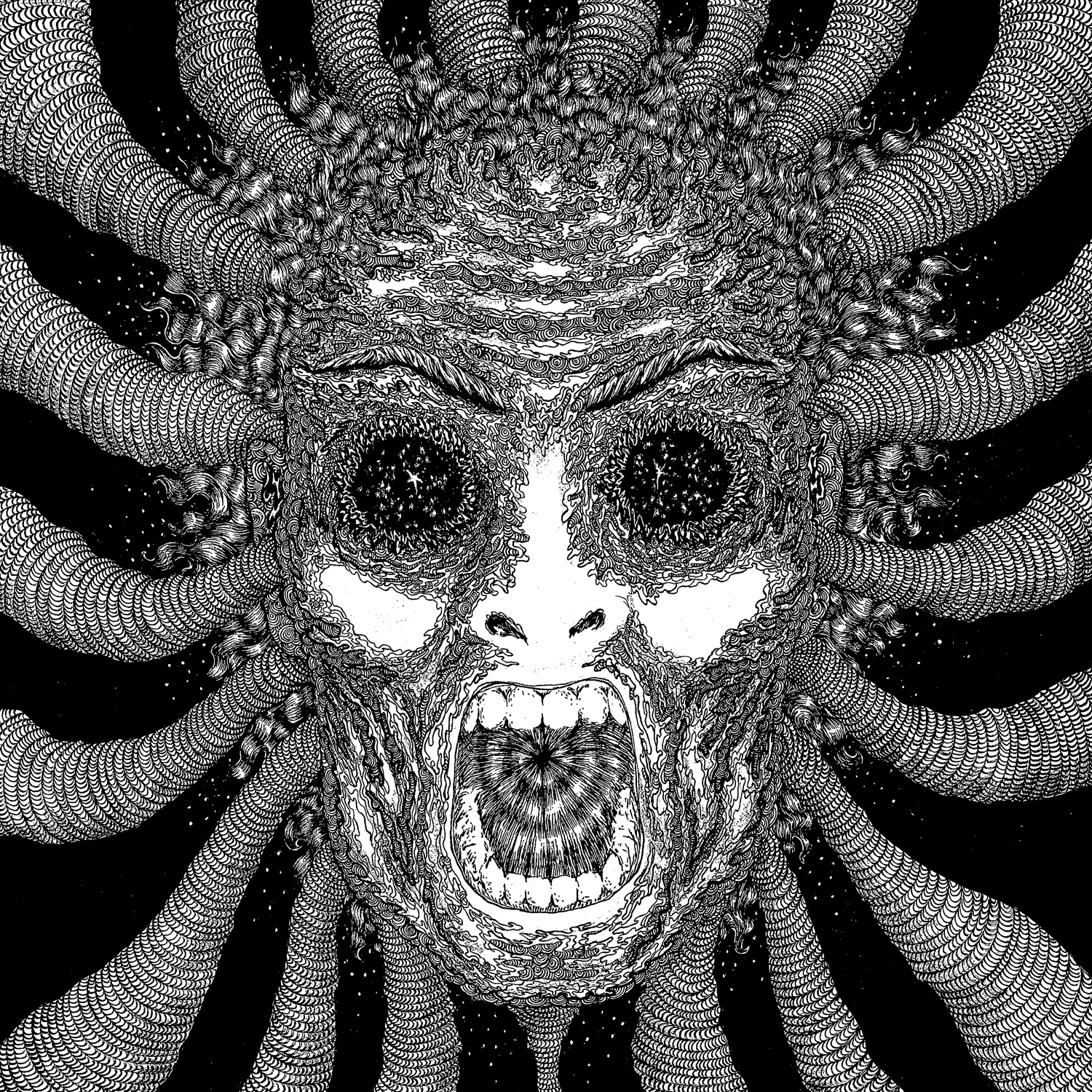 Ty Segall Band - Slaughterhouse
The second release featuring Ty Segall in 2012 was the Ty Segall Band's
Slaughterhouse
which was released in June of 2012. The album features Ty on guitar/vocals and his touring band Emily Rose Epstein on drums, Charles Motthar on guitar, and Mikal Cronin on bass (who is a long time collaborator with Ty). The album is as its title alludes to a heavy assault on the ears, compared to Ty's release with White Fence in April, it's like night and day. Prior to the albums release Ty Segall described this album as being
"evil space rock"
in
Exclaim!
also going on to say that he wanted to
"do a total glam Stooges-meets-Hawkwind or Sabbath"
sound for this album. The album also contains a heavy influence referencing the grungalized sounds once heard by Nirvana and Mudhoney, while at the same time still having Ty's sense of melody and Garage style.
The album begins with the song "Death" which starts with heavily distorted feedback in the style of "LA Blues" by The Stooges and "Endless Nameless" by Nirvana before the song kicks in with its chugging riffs and catchy choruses. Other tracks on this album include "Tell Me What's Inside Your Heart" a catchy Garage song covered in the albums heavy dynamics, "Muscle Man" sounds cleaner compared to the distortion we experience here, while "The Bag I'm In" is an unrelenting moment. The song which is actually a cover song from the
Nuggets
-era of Garage Rock and is a completely uninhibited wild moment on the record serving as a solid anchor point near the end of this album. It is followed by two more covers an extra fast version of Bo Diddley's "Diddy Wah Diddy" and a cover of "Oh Mary" a song originally featured on Ty Segall's 2008 self titled release. On these three tracks we hear the band and even studio chatter, we can tell they are bashing out loud Rock and enjoying every decibel. "Fuzz War" ends the album with its appropriate title the song perfectly describes
Slaughterhouse
as a whole. It is an experimental foray into differing sounds and landscapes which is what this album achieves and what Ty Segall has put forth with the three albums he has released this year.
Ty Segall - Twins
October 2012 brought the album
Twins
, a solo album released by Ty Segall. This album brings us back to songs that have a feel similar to ones found on 2009's
Lemons
and 2010's
Melted
, but the album also features some new musical directions for Ty. The album starts off with "Thank God For The Sinners" a slow driving fuzzed up Ty Segall classic, as "You're The Doctor" forces its way into our hearts with its demented lyrics and fast driving frenzied rhythms. The album ventures into other musical avenues this is evident on the intro to "The Hill" which starts with an almost Gospel like intro sung by Brigid Dawson of San Francisco's other prolific Garage Rock outfit Thee Oh Sees. John Dwyer of Thee Oh Sees also appears vocally on two tracks here on "Love Fuzz" and "Handglams" connecting Ty with the scene on record (as he did with White Fence earlier in 2012 on
Hair
). It is also appropriate that Ty Segall is joined by John Dwyer on "Love Fuzz" a song that could metaphorically symbolize what these two musicians love doing, making fuzzy Garage inspired Rock music. Other moments on the album such as "Gold On The Shore" displays an acoustic/Folk vibe, while "There Is No Tomorrow" ends the album on a slow, but loud note.
Lyrically Ty Segall sings of love and with a demented sense of fun on songs such as "You're The Doctor", "Handglams", "Inside Your Heart" and on "Thank God For The Sinners". On this song he sings "Thank God for the sinners/thank God for your love/in he morning I'll rise above", this song is symbolic of Ty Segall rising above his creative aspirations for 2012 as a musician and as an artist. While
Hair
explored Folk/Psychedelia and
Slaughterhouse
took us through a heavy Space Rock Grunge direction,
Twins
is almost a return to form with Ty playing almost all of the instruments on the album, yet also a step in a new direction.
Twins
shows us that we can't pin Ty Segall down to anything specific, he can be loud and noisy, low key, subtle and just plain unpredictable.
This week's play list:
1. Thee Rum Coves – Simple Little Lie
2. Shitty Neighbours – First Mistake
3. FIDLAR – Max Can't Surf
4. Carbonas – Hate You
5. The Finks - Magic Eyes
6. The Specials – (Dawning of A) New Era
7. Madness – The Prince
8. Chang-A-Lang – Monday Again
9. Cuff The Duke – Side By Side
10. The Subway Sect – Ambition
11. The Cure – I'm Cold
12. XX Teens – B-54
13. Gang of Four – If I Could Keep It For Myself
14. Guided By Voices – White Flag
15. Sloan – I Hate My Generation (Pier 21 Demo)
16. The Beatles – Little Child
17. Pow Wows – Séance
18. Ricky Scott – I Didn't Mean It
19. Ty Segall & White Fence – Crybaby
20. Ty Segall Band – Tell Me What's Inside Your Heart
21. Ty Segall – Who Are You?
22. Ty Segall - Love Fuzz
23. Mystics – Can't Be Happy
24. Black Lips – Stuck In My Mind (Live At Third Man)
25. Black Lips - Oh Katrina (Live At Third Man)
To download this weeks program, visit CJAM's schedule page for
Revolution Rock
and download the file for December 18. Or subscribe to Revolution Rock as a
Podcast.