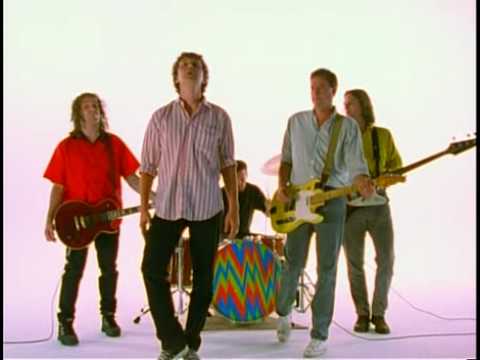 When looking at the work of Guided By Voices, fans of their ever prolific catalogue spearheaded by songwriter Robert Pollard often look to two or three albums,
Vampire On Titus, Bee Thousand
and
Alien Lanes
. Formed in 1983 in Dayton, Ohio, Guided by Voices began recording and releasing material themselves on four track tape recorders in the basement, helping to coin the term "lo-fi" and bringing it into the social consciousness of underground and College/Indie Rock fans.
Alien Lanes
was the first recording on Matador Records and was released in 1995. The album was one of the last to be recorded in their four track fashion, and was a mix of numerous genres ranging from Garage Rock, Psychedelic Garage and Punk to Post Punk, Folk and Pop. The album jumps genres seamlessly in an endless stream of consciousness, and the songs are intertwined with witty, often nonsensical lyrics by Robert Pollard and weird sound effects. The overall sound quality is that of an undiscovered bootleg that is to be treasured. It sounds like one of those records that you hear and want to hoard so no one else can have it.
Alien Lanes
featured many songs that were to become well known songs within their plethora of a catalogue, but it is also important to mention the line up on this release. From 1993-1996 Guided By Voices featured Robert Pollard on vocals, Tobin Sprout and Mitch Mitchell on guitar, Greg Demos on bass and Kevin Fennell on drums. This line up of the band is often referred to as the "classic line up" of Guided By Voices. It should also be noted that while Pollard is regarded and for the most part the primary songwriter for this group, he often worked and collaborated with Tobin Sprout in a Jagger/Richards fashion.
Sprout would often also sing and have his own compositions and
Alien Lanes
is no different. That album starts off with "A Salty Salute" a constant staple of the bands live sets, with its prominent bassline, drums and humming guitar feedback. This song sticks in your head (as do many on this album) with lyrics such as
"The club is open"
being repeated over and over. "Watch Me Jumpstart" is as has been stated in many reviews about change. The lyrics
"Watch me jumpstart as the old skin is peeled/See an opening and bust into the field/Hidden longings no longer concealed"
affirm this amongst the fuzzy guitar and heavy drums. "Game Of Pricks" is definitely a highlight found on this album. With its Power Pop structure and lyrics such as
"You can never be strong/You can only be free/And I never asked for the truth/But you owe that to me"
the song displays an uplifting spirit, while at the same time conveying a sense of melancholy. Other notable songs are the Psychedelic Folk of "They're Not Witches", the hidden Beatles influence of "As We Go Up, We Go Down", the lo-fi nugget "My Valuable Hunting Knife", and "Blimps Go 90" which adds a string section to their already established sound.
Alien Lanes
features many slower songs as well, such as "The Ugly Vision" and "Ex-Supermodel" and these songs also venture into experimental territory. "Ex-Supermodel" features a predominate sound of someone snoring throughout the track, while a song like "Chicken Blows" features strange sounds and melodies that sound like someone singing underwater.
Tobin Sprout also shines on his own compositions on this album, where he also takes lead vocals as well. The catchy Velvet Underground Pop infectiousness of "A Good Flying Bird", "Straw Dogs" and the ramped up Buzzcock sounds of "Little Whirl" are undeniable amongst this 28 song collection that is known as
Alien Lanes
. When recording this album for Matador, Guided By Voices were given a significant six figure sum to record the album. They decided to record on four and eight track tape recorders on the cheap, as stated in many articles about
Alien Lanes
. In James Greer's
Guided by Voices: A Brief History: Twenty-One Years of Hunting Accidents in the Forests of Rock and Roll
, he stated that "
The cost for recording Alien Lanes, if you leave out the beer, was about ten dollars."
Greer was also a member of GBV contributing vocals and bass to
Alien Lanes
and
Under The Bushes, Under The Stars
. He also toured with the group. Another important significance that
Alien Lanes
holds is that it was recorded very cheaply and poorly on purpose and proved that you do not need a major label and or studio to make a good album. This was at a time when major labels and studios dominated the world of music in almost all aspects, but their DIY ethic and production techniques emphasize the fact that an album can still be good regardless of how much money goes into the production of it.
If 1993's Vampire on Titus and 1994's Bee Thousand helped to establish a cult-like following, then Alien Lanes cemented that status. Alien Lanes spans many genres, blending styles and melodies with a gritty lo-fi quality and its songs are often fragmentary like the songs found on Wire's Pink Flag album, but they also have a sense of experimentation. Some people love it, some people hate it, but these recordings are not unlike the rough sounding Basement Tapes bootleg that Bob Dylan did with the Band in the late 60s. Alien Lanes grows in a similar style, with sound effects, lyrical nonsense, wittiness and a charming gritty bootleg tape sound. It is imperfectly perfect just like many fans favourite Guided By Voices songs and albums. And at 28 songs in 41 minutes, it is the perfect example of the Guided By Voices style and it demonstrates how prolific they are, regardless of which path it leads you down.
This week's Play List:
1. Salvia Plath – House of Leaves
2. Sunwolf – Angel Eyes
3. The Winter Coats – Not For Us To Say
4. Feels Alright – Oahu Ohio
5. Nervous Talk – Introductions
6. Wyldlife – Sonofabitch
7. No Age – Circling With Dizzy
8. Mudhoney – Don't Fade TV
9. The Wipers – Can This Be
10. Guided By Voices – A Salty Salute
11. Guided By Voices – Game of Pricks
12. Guided By Voices – The Ugly Vision
13. Guided By Voices - A Good Flying Bird
14. The Groupies – Primitive
15. Thee Oh Sees - Two Drummers Disappear
16. Mystics – Tell Me
17. Eric Welton Band – Kill Them With Kindness
18. Klark Kent – My Old School
19. Nick Lowe – Marie Provost
20. Shadowy Men On A Shadowy Planet – You Spin Me Around 86
21. Shadowy Men On A Shadowy Planet – Vibrolux Deluxe (Previously Unreleased Version)
22. Shadowy Men On A Shadowy Planet - Run Chicken Run
23. The Only Ones – Out There In The Night
24. The Rich Kids – Ghosts of Princes In Towers
25. Alex Chilton - I've Had It
26. Sebadoh - Arbitrary High
27. Richard Hell & The Voidoids – I Live My Life
To download this weeks program, visit CJAM's schedule page for
Revolution Rock
and download the file for August 27 Or subscribe to Revolution Rock as a
Podcast.