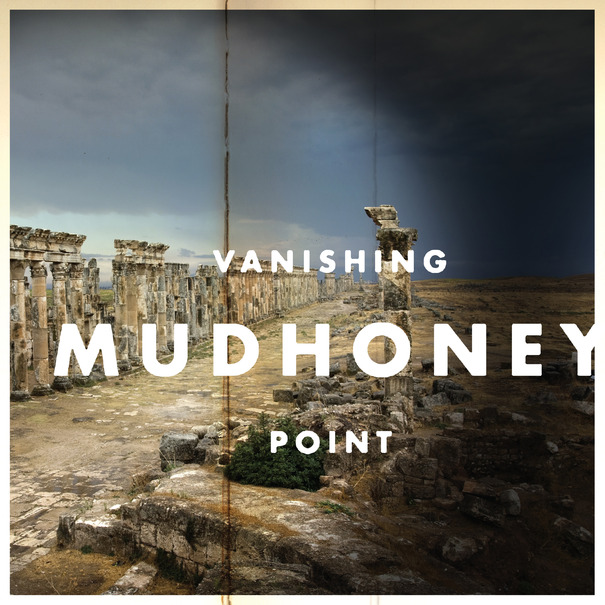 Mudhoney released
Vanishing Point
their ninth full length album on April 4th, 2013 via Sub Pop Records. The band has come a long way from 1988's
Superfuzz Bigmuff
, however this new album builds on some of the bands earlier sounds and influences, while at the same time bringing in elements of 2008's
The Lucky Ones
and their 2000 era sound, featuring more Stooges based freak out instrumentation. Lyrically, vocalist Mark Arm sharply hones his lyrics in a humorous, wit filled style, the kind that Mudhoney fans have come to love.
Vanishing Point
attacks the mainstream stereotypical rock star image, over rated popular champagne and douchebags. On the musical side the band reveals sounds that remind us of 60s Garage, Psychedelic Garage and just loud distorted Rock and Roll.
"Slipping Away" starts off with a drum solo and bass riff, before Mudhoney's distorted Garage guitars come in. Mark Arm expels lyrics such as
"I try to hold you, but you're like sand / Slipping through these broken hands"
playing into the albums artwork which also seems to reference a cult classic B-Movie, but more on that later. The song ends in a Psych Rock rave up, bringing up echoes of Ron Asheton and 60's Psychedelia. "I Like It Small", the lead off single for this album is also one of the strongest and fitting songs to Mudhoney's discography. This track is reminiscent of older songs in the bands catalog minus the overloading distortion, making it sound musically like a Garage/Nugget track influenced by The Stooges and 80s Punk. With lyrics like
"And when I orgy I cap it at twelve/Anymore than that I get overwhelmed"
and
"I'm not on some grandiose trip/I'm fine with little sips"
this song lyrically attacks as mentioned, the stereotypical rock star image, by proclaiming they like it small, Mudhoney is addressing their minimalist motto, doing music their own way, not doing anything that is considered the norm. "What We Do Is Neutral" is a slow driving song, sounding like a song from 2002's
Since We've Become Translucent
, while "Chardonnay" burns through in less than two minutes following with razor sharp 70s Punk riffs, as lyrically Arm attacks the drink of the same name, considered a mainstream popular drink of choice to the famous with his witty and tongue-in-cheek lyrics. "The Final Course" is a slow riff filled song with disturbing lyrics that tell a tale involving issues of murder, cannibalism and out of body experiences, in classic lyrical Mudhoney offensive style.
"I Don't Remember You" pokes fun at memory loss and grocery stores as it musically pulls influences from The Sonics, "The Song of Joy" musically seems to conjure up sounds not unlike "Need" and "If I Think" from 88's
Superfuzz Bigmuff
, while adding their 2002-2008 Psych Garage element, finally the album ends with the track "Douchebag Parade". This final track on the album eats at good looking, richer people that fall into that category we all know as "Douchbag" with its caustic, sharp witted lyrics and driving bass, drums and spacious lead guitar lines from Steve Turner. Mudhoney celbrates 25 years of being a band with this album, their label Sub Pop does as well. While both Sub Pop and Mudhoney have gone through their own troubles and turmoil's over the last 25 years, they have persevered in their own way. Both the label and band have evolved to something that people can still indentify with and still love.
Now back to the title and album cover. The album cover is a photo that was taken by Emily Rieman of the ruins in Apamea, Syria, Arm revealed in an interview with Exclaim! He also said that the title was influenced by this photo referencing a movie where everything goes off into the distance, what many believe is the 70s' B-Movie Vanishing Point. But this is an interesting point to leave you with when considering this album and Mudhoney as a whole. Like the end of the film Vanishing Point, many believe that Mudhoney had hit a wall in the 90s when signing to a major label, yet Mudhoney has risen from the so called ashes of their past evolving into something different and familiar at the same time. With Vanishing Point Mudhoney shows us that they still have the ability to sound like the Mudhoney that we used to love, but at the same time sound fresh and unspoiled.
----------------------------------------------------------------------------------------------
Another thing I would like to mention, last weekend at CJAM FM's annual Jammy Awards I received a Lifetime Achievement award for my work with Revolution Rock and within the station and its community becoming the youngest programmer to do so. I initially started Revolution Rock in June of 2004, where it aired in the late night hours broadcasting from CJAM FM's airwaves. The show started off dealing specifically with 70s Punk/New Wave, but over the years grew to incorporate other genres such as 60s Garage, Surf, Alternative, Indie and a variety of other associated genres, still remaining despite the genre in the attitude, realm and spirit of 70s Punk. In 2006, I started this blog. Its purpose was to have weekly posts which would profile a different band every week and also to host the play list and download links to the corresponding program for people to discover. This was before the term social media and facebook really started to affect the internet in a large way, this site too has grown to include exclusive interviews and content at times. I would like to thank CJAM FM, its staff and volunteers and anyone who has ever paid any interest in my show or website. While at first I didn't think I had been at CJAM that long, nine years is a long time, a lifetime to some. Thanks CJAM!
This week's play list:
1. Paul Revere & The Raiders – Steppin' Out
2. Chit Chat – Jelly
3. Tom Waits - Chicago
4. Captain Beefheart - Ella Guru
5. Syd Barrett - Octopus
6. Colleen Green – Only You
7. Japandroids - Fire's Highway
8. Mudhoney - I Like It Small
9. Mudhoney - Chardonnay
10. Johnny Cash – Remember The Alamo
11. Cellos – Feeding Through The Breathing Tube
12. Iceage - You're Nothing
13. Mission of Burma - New Nail
14. Big Black - Jordan Minesota
16. Sloan - Emergency 911
17. Deja Voodoo – Gotta Have Money
18. The Revolvers – Apocalypse Surfin'
19. Suuns - 20/20
20. Unicorns - I Was Born A Unicorn
21. Shotgun Jimmie - 3012
22. Simply Saucer - Instant Pleasure
23. Wreckless Eric - A Pop Song
24. The Gruesomes – The Deal
To download this weeks program, visit CJAM's schedule page for
Revolution Rock
and download the file for April 16. Or subscribe to Revolution Rock as a
Podcast.