On August 28th, 2012 Toronto Indie band Papermaps released their
Inferior Ghost
EP, stylistically the album is a shift, but Papermaps make a natural progression on this EP. The last single released from Papermaps self titled album was the track "Complicate Things", which can serve as an indication where this EP takes us, metaphorically and musically. It is nearly impossible to discuss this release without mentioning the giant elephant in the room, which leaves us just a sliver of space. In February 2012, Chemical Sound closed its doors for good after twenty years of operation, Dean Marino the lead singer/song writer in Papermaps owned the studio with Jay Sadlowski who is also a musician, they served as the owners, operators, engineers and producers of this studio. The EP represents as it has been stated in some reviews, perseverance through difficult times.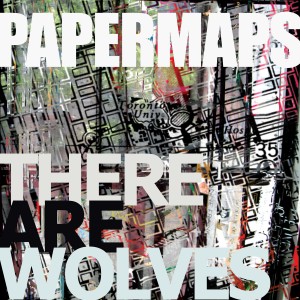 Inferior Ghost
starts off with the track "There Are Wolves", which was also the lead off single for the EP. The song is a gripping attack on the modern world, with lyrics such as "Sometimes I feel like this town didn't have the patience for me" and "We were just waiting/we were already there" the song builds and sucks in the listener with its catchy hooks and clever arrangements, the song is crafted and produced so well it is not only a great way to start off the EP, but one of the best sounding recordings that the band has produced. "Wait For Me" follows next, it is a moodier and frantic piece featuring strong choruses, the song overwhelms the listener with its synthesizers that linger in the background of the verses as the choruses pick up into a precise rhythm with plodding basslines and guitar riffs. The title track is a slow, yet unrelenting track, the song has a lot of space, with its ringing guitar chords and pulsating basslines it attracts the listener, while lyrics such as "Well you say it is not a just world" and "You've got to take what you've got and make the most" make you think. It serves as not only the middle point of this six song EP, but also as the shift in the album musically and lyrically as it questions overcoming difficult circumstances weighing the bad with the good.
"Break" is the fourth track found here on this EP starting us off for side two of this EP which was released on vinyl and CD. The song is another change of mood adding more variety to the EP's dynamics, on this track Marino sings in a voice which sounds almost like Thom Yorke of Radiohead at certain moments. "Nobody Gets It" picks up the pace a bit, it was along with two other tracks ("There Are Wolves" and "Reaction Formation") recorded half at Chemical Sound in Toronto and half at Vespa Studios, which is also located in Toronto. The EP ends with the song "Reaction Formation" which ends the album on a positive note, the middle section of this song is reminiscent of the band Television with its dual guitar attacks. The song ends the progression of this EP which as stated earlier is about perseverance. Musically the EP is focused, with strong Pop hooks and while this whole EP can be traced back to our Chemical Sound filled elephant friend it can also be applied to just about any situation in life. Inferior Ghost is an EP that everyone can relate to, it lets us know with its meaningful songs, that we can react and move forward in a new and different direction. The title of Papermaps EP may be "Inferior" Ghost, but after one listen you can tell it is everything but.
This Week's Play List:
1. Seven Story Redhead – Last Big Thing
2. Rivals – I Don't Believe In Ghoulies
3. The Real Kids – She's Alright
4. Jack-O & The Tennessee Tearjerkers – Sweet Thang
5. Tenessee Ernie Ford – Sixteen Tons
6. Blind Mamie Forehand – Honey In The Rock
7. Jon & The Nightriders – Man of Mystery
8. Fugazi – Waiting Room
9. Dinosaur Jr. – Rude
10. Big Dipper – You're Not Patsy
11. Learning – Guns Around Here
12. Jimmy Cliff – World Upside Down
13. Lee Scratch Perry & The Upsetters – Return of The Super Ape
14. The Specials – It's Up To You
15. Television – See No Evil
16. Papermaps – Wait For Me
17. Papermaps – Nobody Gets It
18. The Orwells – Halloween All Year
19. Modernettes – Suicide Club
20. Dee Dee Ramone (Ft. Lux Interior) – Bad Horoscope
21. The Sadies - Tiger Tiger
22. Pow Wows – Four Star
23. The Black Lips – I Saw A Ghost (Lean)
To download this weeks program, visit CJAM's schedule page for
Revolution Rock
and download the file for September 11. Or subscribe to Revolution Rock as a
Podcast.