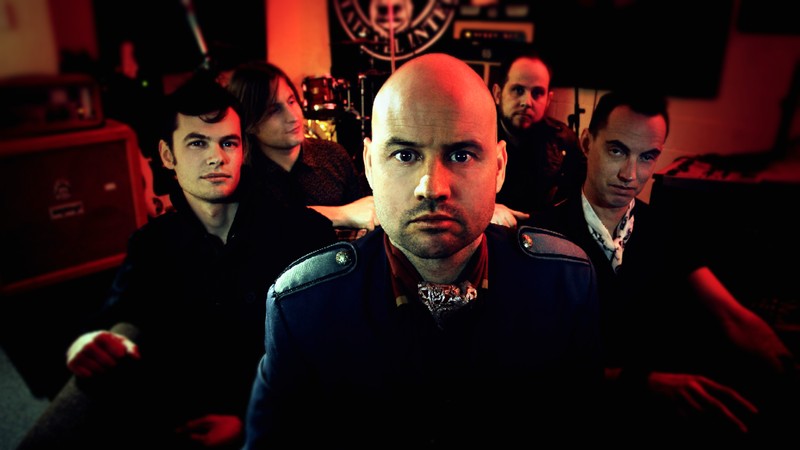 In November of 2008, New Zealand Rock band Luger Boa released their first full length album titled
Mutate or Die!
The album and band was formed out of the ashes of New Zealand Garage Rock band The D4 and following the release of this album, the band toured extensively playing festivals and all over New Zealand. The album even charted here in Canada in January of 2009 on CJAM's Earshot! Charts at number ten on the top 30 album charts. Luger Boa received a positive critical acclaim locally in New Zealand even winning an award for the Best Local Rock song in 2009 for the song "On My Mind". The new album was released in May of 2011 and was entitled
New Hot Nights.
It loosely revolves around the concept of an extreme night out of drinking and the repercussions there of.
New Hot Nights
still maintains the Hard Rock/Glam Rock influence that the band first built upon, while at the same time adding more Pop and other elements into the mix for a unique sound.
Recently I was fortunate enough to get an interview with front man Jimmy Christmas to talk about the band. The following interview was done between myself (Dave Konstantino of Revolution Rock) and Jimmy Christmas (of Luger Boa). He touches on the recording of
New Hot Nights
, the current band line up, his favourite albums, and more.
RR: Luger Boa's first album, Mutate or Die! was released in 2008. How has the band changed since then and how has the support been for the band in New Zealand?
JC: Support for Luger Boa has been incredible in NZ, we seem to attract a really diehard following who, once committed, are unrelenting (and sometimes unsettling!) in their dedication to the cause. Which is great. Live shows therefore tend to be very intense, high energy, and unpredictable. I really love that.
RR: The band line up has changed a few times, who is in the current line up of Luger Boa?
JC: Luger Boa is Jimmy Xmas - Vox/Guitar, Sam Lockley - Guitar, Simon Nicholls - Bass, Joe Mac - Drums, Johnny Lyon - Guitar. Johnny is the newest addition to a line-up that has been pretty solid for the past 2 years and the core of which played on the latest album. His arrival seems to have injected us with even more energy and the whole machine has picked up ferocity and pace. It's feeling really good right now.
RR: Mutate or Die! had a Glam Rock and Pop influence, what influences did you draw from when making New Hot Nights?
JC: I think we are still working the Glam influence, Bowie, Iggy, a touch of the Sweet perhaps? I've always been a sucker for injecting small fragments of War of The Worlds here and there, and of course there's all the garage, punk, and rock n roll that makes us who we are. I think we even might of had a few Cars and Talking Heads moments from time to time, but again, as with then first album, the goal was always to build a Frankenstein's monster made of all those twisted little flavors we love.
RR: Where was New Hot Nights recorded and when did the recording process begin?
JC: The bulk of the album was tracked at a residential studio in the countryside, in an old converted sheep barn. That sells it a bit short though cos all the equipment had come from one of the countries world standard studios, so the place felt and sounded incredible. There was even a bar in the main recording room, which suited us just fine! We tracked the core of it over a ten day period, then I took it all back to a secret laboratory in Melbourne where we twisted it up, turned it on its head, and tied the stories to the music, and vice versa.
RR: Who did you work with when making this album (ie: Producers, engineers, etc.)?
JC: We were joined once again by the incomparable Barry Palmer, wearing his snug fitting Producers cap. This time however, it was he that suffered the now obligatory physical damage, in the form of a broken nose and black eye. Last record I got glassed on the forehead and wear a little smiley faced scar to this day. The album was engineered by Andy Baldwin, resident of NYC and a man of culture and refinement. He's the type who always travels with a bottle of Tabasco sauce in his pocket, and is a mad genius when it comes to twiddling knobs and getting sweet sounds.
RR: What type of gear did you use when recording this record? (ie: guitars/amps, etc.)
JC: We had access to an amazing array of amplification on this album, and used a whole myriad of sounds depending on what we were after. Ryan Thomas, long time member and electronic wizard, runs a business where he imports boutique valve amps, so the options where many. My favourite though was probably a little 2 watt valve head he made himself. Its sounds like a cornered Tasmanian devil, so it fit in perfectly. Between the band members we have a pretty sweet array of old fender and Gibson guitars, the odd musicman, and a crazy 70's lawsuit series Ibanez I found abandoned on the street one night.
RR: You have described New Hot Nights as "12 deliciously twisted tales from the concrete jungle" and I have also read that is loosely based around a concept. Could you elaborate on this?
JC: During the creative period for the album, I was spending a lot of time in a bar on Auckland infamous red lights strip, known locally as K'Rd. Smoking cigarettes and talking on the street outside the bar meant I was a witness to a whole mass of humanity passing each other by, feeling each other up, and crashing into one another at strange hours of the night. It got me thinking about all the stories and characters that were inhabiting that small corner of the world, and how diverse and intense it was at those hours. So I guess the lyrical ideas were drawn from observations of the people on the street, and are attempts to inhabit the minds of a whole mess of characters at various stages of one long night out. Loosely anyway. Heh. We had a great time with the artwork too, photographing the street, then re-editing the layout and shop names to create our own fictional environment, which we then populated with the creatures from the stories. The whole process involved a lot of crazy nights in, on, around and beneath K'Rd. We loved every minute.
RR: Has the song writing process changed at all as opposed to the last album or recordings that you have made in the past?
JC: Not really, it still pretty much involves a lot of alcohol, volume, and damn good times!
RR: What are some of your all time favourite albums and what are some other bands that you are currently listening to?
JC: The Sonics - Here Are The Sonics, The Litter - Distortions, The Stooges - Fun House, David Bowie - The Rise & Fall Of Ziggy Stardust & the Spiders from Mars, The Buzzcocks - Singles Going Steady, Iron Maiden - The Number of The Beast, ACDC - If You Want Blood (or to be honest, any Bon Scott era album), Radio Birdman - Radios Appear, and that's just today heh.
Right now though, I'm listening to a lot of T- Bone Walker & early Ike & Tina. I also just rediscovered a live version of Al Green singing Belle, which is probably one of the best things I've seen on the interweb lately. Oh, and some great footage of Kiss playing at Winterland in 1975. Rock n fucking roll.
RR: What are your plans for the future musically?
JC: Right now, we are focussed on getting this beast offshore. We have done great here, but with no forward momentum there is no future, and I really believe we have something a certain kind of person is gonna wanna see, so we feel a responsibility to bring it to them.
This Week's Play List:
1. White Stripes - Girl, You Have No Faith In Medicine
2. The Cliques - She Ain't No Good
3. The Stomach Mouths - Don't Put Me Down
4. The Speaking Tongues - Looking In Your Window (Live Third Floor Session)
5. The Express & Co. - Montreal
6. John Jenkins' Small Town Revival - Small Town Revival
7. The Schomburg Fair - Some Things Never Change
8. The Pagans - Yeah Yeah
9. The Cosmonauts - Little Honda
10. XX Teens - Onkawara
11. The Rapture - Whoo! Alright Yeah ... Uh Huh
12. The Killermeters - Twisted Wheel
13. The Purple Hearts - My Life's A Jigsaw
14. Elvis Costello & The Attractions - Crawling To The USA
15. The Only Ones - Me And My Shadow
16. The Braineaters - Rock Rock
17. 222's - Always Around
18. The Squad - Millionaire
19. Young Canadians - No Escape
20. Luger Boa - 1000 Hooks
21. Luger Boa - Lazy
22. Albert Hammond Jr. - Everyone Gets A Star
23. Queens of The Stone Age - Into The Hollow
24. Joe Strummer & The Mescaleros - Johnny Appleseed (Live Acton Town Hall 2002)
To download this weeks program, visit CJAM's schedule page for
Revolution Rock
and download the file for August 23. Or subscribe to Revolution Rock as a
Podcast.