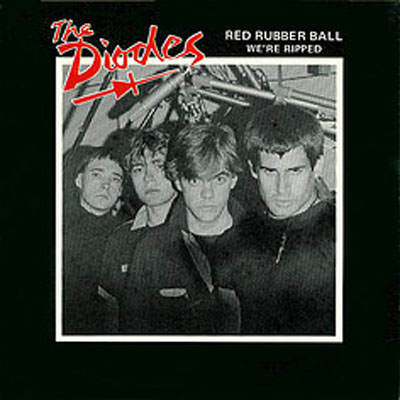 The Diodes are a Canadian band from Toronto, Ontario. They were signed to Columbia Records in 1977 making them the first Canadian punk band to be signed to a major label. In 1978 their first self-titled debut was released. It featured a cover of the Paul Simon song "Red Rubber Ball". The band was influenced by punk bands such as The Clash and Ramones, but they also had a different melodic almost new wave style to their songs. It was obvious that the band was punk influenced and the album was available in the US and UK. The band would tour with other acts such as Ramones, the Nerves, Talking Heads, Ultravox! and U2. They had credibility. The band consisted of Paul Robinson (vocals), John Catto (guitar), Ian Mackay (bass), Mike Lengyell (Drums).
In 1979, their second album
Released
came out. The song "Burn Down Your Daddies House" was cut from the final album due to the fact that it was seen as controversial. Due to poor album sales, the band was dropped from their label after this album. The band would move to England and release
Action/Reaction
in 1980. The band would break up after this and release an album featuring outtakes and demos in 1982 titled
Survivors
. In 1983 members of The Diodes and The Barracudas formed a band called High Noon. They recorded material in London, but it has never been released. In 1998
Tired of Waking Up Tired
a combination of the bands first two albums, served as a greatest hits of their material released for Columbia (from 1977-1979). The band also reformed in January 1999 to play on The Mike Bullard Show in Canada, for one time only to promote
Tired of Waking Up Tired
.
One more thing I have to mention please visit
the CJAM Jammie web page
and vote for the Jammies. The voting ends on April 6th.
Here's the Play List:
1. Pretty Things – midnight to six man
2. Small Faces – sha-la-la-la-lee
3. MC5 – shakin' street
4. Diodes – midnight movie star
5. Neon Boys – that's all I know
6. Real Kids – reggae reggae
7. Piranhas – green don't suit me
8. Pointed Sticks – the witch
9. Tricky Woo – get around
10. The Stems – can't resist
11. Lime Spiders – out of control
12. The Saints – one way street
13. Ramones – Havana affair
14. The Clash – (whiteman) in Hammersmith Palais
15. Undertones – more songs about chocolate and girls
16. Fastbacks – won't have to worry
17. Vindicators – thinking of birds
18. Joy Division - leaders of men
19. Mudhoney – poisoned water
20. The Stooges – free & freaky
21. The Doors – take it as it comes
22. Neil Young – the needle and the damage done (live at Massey Hall 1971)
23. Neil Young - tell me why (live at Massey Hall 1971)
24. Ride Theory – hey sugar
25. White Stripes – walking with a ghost
26. The Scientists - atom bomb baby