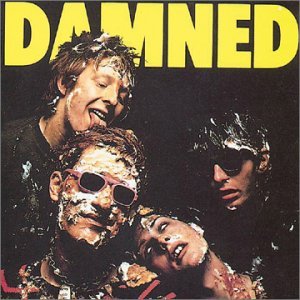 Hey this week I had a really loud show, anyways, I'll be talking about The Damned this week. The Damned started off in a pool of musicians, in the late 70's among the musicians in this circle was Mick Jones (The Clash), Billy Idol (Generation X), and Chrisie Hynde (The Pretenders),and many others. The Damned formed just as punk was starting to pick up and scare people in the late 70's in the UK, in fact they were the first UK punk band that got a single released (it was "New Rose" in 1976). The band is influenced by MC5, The Stooges, The Beatles, and Sex Pistols, among others . The band formed in 1975/76 with Dave Vanian (Vocals), Brian James (guitar), Captain Sensible (Bass), and Rat scabies (Drums). The band was quite odd, lead singer Dave Vanian, dressed as a vampire on stage, the band has songs that dealt with things in sarcastic ways.
In 1977,
Damned, Damned, Damned
was released, it was the bands first full length album and the first UK punk album to be released. It was produced by Nick Lowe, there were some rumours that the album was actually sped up to sound faster, but this is just a rumour and is not known for sure. The album was energetic fast, and the first punk album the UK had to offer to the world. The follow up album
Music For Pleasure
, came out in 1978 and was produced by Nick Mason from Pink Floyd. The band originally wanted Syd Barrett from Pink Floyd to produce it, but they settled for Mason. The album has some great tracks and great song writing on it. It is often over looked by many because it doesn't sound exactly the same as the bands first album. The album is really great and I pick it as my favourite Damned album. After this album, Brian James decided to leave the group, he was the main song writer, but the band decided to keep going.
The band members switched positions, Captain Sensible went to guitar, and Ex-Saints bassist Algy Ward joined up with the group for their next album that would be titled
Machine Gun Etiquette
; it was released in 1979. The album turned out to be just as good as when The Damned had Brian James with them. After that bassists would keep switching and the band would continue to revolve members and play for along time. An album was released in 2001 titled
Grave Disorder
. The Damned were an odd band, they had quirky senses of humour and a vampire as a lead singer, they are definitely worth checking out.
The song played tonight was "One Way Love" from the album
Music For Pleasure
.
Here's the play list:
1. Ramones - teenage lobotomy
2. Ramones - I don't care
3. Sex Pistols - bodies
4. Modernettes - teen city
5. The Diodes - terminal rock
6. Undertones - my perfect cousin
7. The Clash - what's my name
8. The Clash - cheat
9. The Police - landlord
10. Teenage Head - kissin' the carpet
11. The Damned - one way love
12. Buzzcocks - breakdown
13. Buzzcocks - friends of mine
14. The Saints - everything's fine
15. Sloan - people think they know me
16. Iggy Pop - new values
17. XTC - science friction
18. Public Image Limited - attack
19. Generation X - psycho beat
20. Dead 60's - a different age
21. Rage Against The Machine - down on the street
22. The D4 - out of my head
23. The D4 - feel it like it
24. Sloan - living with the masses
25. Soundgarden - no attention
26. Richard Hell & The Voidoids - liars beware
27. Johnny Thunders & The Heartbreakers - one track mind
28. Gang of Four - 5:45 (Live BBC session)