Every week on my blog (or as often as I can), I will post the play list from my radio show and some information about some of the bands I play. This week I will talk about The Clash.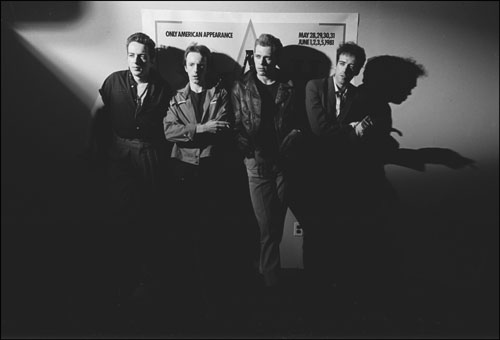 The songs I played from The Clash this week were from their album
Sandinista!
,which was released in 1980. The album was recorded in New York at Electric Ladyland Studios, and showed The Clash going even further than they did on their brilliant album
London Calling
. It showed The Clash covering all styles such as their usual reggae and punk. They also experimented with jazz, gospel, dub, rockabilly, among other styles.
Let's Go Crazy
is a more of a reggae/Caribbean song, while
If Music Could Talk
, is definitely jazz influenced.
Sandinista!
is definitely an underrated album. Some fans believe that if it was released as a single album it would have been The Clash's best album, but it was released as a triple album (on vinyl) in 1980. This is an album that is hard to get used to all at once, but after a few listens it sounds great.
After the album
Combat Rock
, guitarist Mick Jones was fired from the band, along with drummer Topper Headon and The Clash were essentially over. They made one more album
Cut The Crap
with a different line-up and only original members Joe Strummer and Paul Simonon, and was more of original band manager Bernie Rhoads creation. The album was followed by a short busking-type tour, then they split. Mick Jones would go on to form Big Audio Dynamite, Paul did a one off project Havana 3AM, and Joe did films. He returned in the late nineties with a new band Joe Strummer & The Mescaleros. I played the song
Cool n' Out
from the album
Global A-Go-Go
, which is one of the three albums released by Joe Strummer & The Mescaleros. Joe unfortunately passed away in 2002, just before The Clash were inducted into the Rock n' Roll Hall of Fame. The Clash's music still stands the test of time.
A series of two radio specials I did on The Clash can be found here:
The Clash (1976-1979)
The Clash (1980-1985)
Heres the tracklist from my show on September 20th:
1. Teenage Head – top down
2. Diodes - time damage
3. The Damned – fan club
4. Ramones – I remember you
5. Ramones – California sun
6. Young Canadians – well, well, well
7. Johnny Thunders & The Heartbreakers – I love you
8. The Clash – let's go crazy
9. The Clash – if music could talk
10. The Police – other way stopping
11. Sex Pistols – problems
12. Iggy & The Stooges – death trip
13. Undertones – nine times out of ten
14. Buzzcocks – I don't know what to do with my life
15. Buzzcocks – money
16. Buzzcocks - hollow inside
17. The Saints – international robots
18. Magazine – Thank You (Falettinme Be Mice Elf Agin)
19. Talking Heads – unison (remain in light outtake)
20. Wire – I am a fly
21. Nirvana – old age (nevermind outtake)
22. Neil Young – downtown
23. Sublime – April 29th, 1992 (Miami)
24. Joe Strummer & The Mescaleros – cool n' out
25. Dirty Pretty Things – deadwood